attractive, practical, & versatile
Wendy houses

in traditional wood
Pinnacle Homes are one of the most well-known and reputable wendy house manufacturers and suppliers throughout the Western Cape region. We offer highly affordable wendy houses for sale and log houses for sale, and can meet your exacting specifications with our custom, made-to-order service.
What is a Wendy house?
A wendy house is traditionally a wooden framed structure, with no fixed foundations, which is clad in overlapping planks of timber. Due to cost contraints the cladding is almost exclusively done in treated pine.
Traditional wendy houses are an excellent options whether you are using your wendy house as a garden shed, kids play house, or are planning to live in it:
Easy to maintain
lower initial costs
Low environmental impact
wood is a natural insulator
usually don't need planning permission
so you end up with a cosy building that wills suit your needs and budget, which is easy to install, requires little if any planning permission, and will last you for years.
Some recent Wendy House projects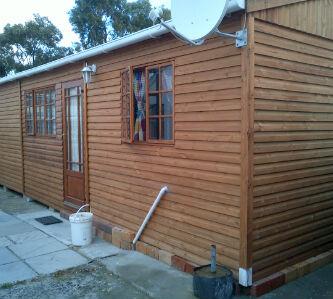 Why choose Pinnacle Homes
For your traditional Wendy house?
Big or small, simple sheds to full sized homes, we have the expertise to exceed your expectations.
Durable, weather resistant, treated, SABS compliant pine boards on hardwood frames
your choice traditional overlapping or more durable tongue and groove
Long lasting zinc roofing as standard, though we can use any SABS compliant material
wooden window and door frames as standard, aluminum available as well
All our wendy houses come with lockable doors as standard.
Want something more than an empty shell of a building?
Our team of skilled artisans includes qualified plumbers, electricians, tilers, painters, and plasters, making it a breeze for us to turn your wendy house into a cosy, homely, living space to meet all your needs. Why struggle with multiple contractors, all passing the blame to each other, our one stop approach will make life so much easier for you.
Our typical completion time is 3 days, dependent on the scale and complexity of an individual project.
Skilled artisans, fully SABS compliant materials, and workmanship, and able to meet the strictest of buidling regulations
A Wendy house is an investment, it will last a very long time, so you want to ensure that it is installed 100% correctly and complies with all building regulations. And by using Pinnacle Homes you can rest easy knowing that the Wendy house experts are on the job.
Contact us now and get your project off the ground.